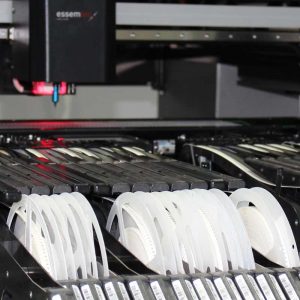 Flexibility is a top priority for our electronics manufacturing. Our service portfolio covers all areas of electronics manufacturing, because, as an EMS service provider, we are able to realize your vision efficiently and cost-effectively. The electronics manufacturing brings conceptual electronics development to life. Together with our development department, your ideas are turned into specific products of the highest quality.
Our electronics manufacturing services
SMD and THT printed circuit board assembly
Automatic and manual soldering
Mechanical production
Cable assembly
Commissioned assembly
3D printing (rapid prototyping)
We guarantee high-quality electronic solutions with the assembly of printed circuit boards, module assembly and precise test procedures. In order to always guarantee a high level of output, our machinery is fully equipped and is constantly being enhanced and expanded. This allows us to adapt our production process to the current market and to respond flexibly to new technologies.
Our planning takes into account all existing interfaces and presents them in a differentiated manner. It goes without saying that we compile all necessary technical documents when preparing the correct execution of parts and components. Our materials management is tailored to your needs and guarantees optimal value for money. Stencil printing, a modern assembly system and a stable soldering process are combined in a fully automated inline process. Our production line can be retooled quickly and without disrupting production. The machinery used guarantees our customers high production quality and process reliability in series production. Our 3D printers are available if you need components, such as a housing for example, at short notice. A state-of-the-art CNC machine is available for the machining of your components. Thanks to our extensive worldwide network of suppliers and partners, we can procure the materials and components required for the production process quickly and on favorable terms.
Highest standards from beginning to end
In order to guarantee a perfect result, each component is subjected to strict tests and controls upon completion, before leaving our company in ESD-compliant shipping bags in the capable hands of our logistics partners.
Contact us
Do you have questions about our electronics manufacturing or our EMS services? Then simply drop us a line. We will be happy to explain what we can do for you.